Ready to stand out from the crowd?
Business management / Sales management
Efficiently control every sales cycle including initiate contact, draft resolution, present offer and close a sale. We help you realize customers precisely and take advantage of yourself. Enterprises can increase sales performance and seize every business opportunities.
ServiceJDC, New Concept for Sales Management

Data is an important key to improve sales performance!
Through ServiceJDC's digitalized process, you can quickly analysis visit records and status. Managers can change business strategy trough these important data.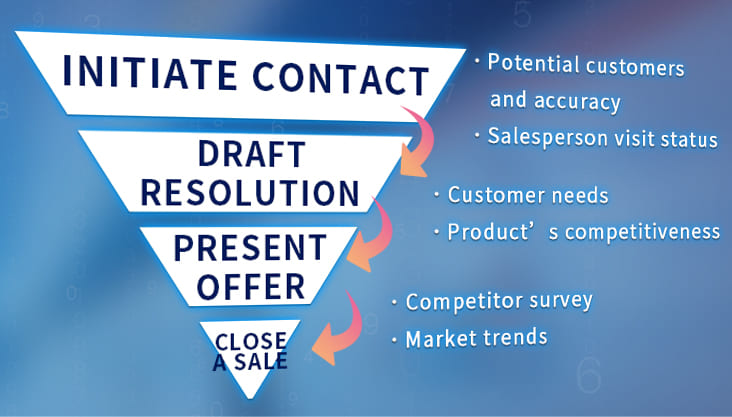 Accumulate data assets and fight for rapid changing market!
Filling gap between managers and staff with visible advantages!
Build up Sales Capacities and Enhance Sales Performance

Salesperson can arrange schedule, check in, check service records, report back, submit approval form, and fill daily reports with our App. Managers can realize all status with real-time synchronize back-platform. We can assist you analysis and control market trends!
Reasons of Enterprises' Growing Needs to Use ServiceJDC

Substantial Experience
Over 40 years experience in system integration.
Flexibility
Various functions and can be customized by enterprise.
Cost Transparency
Low cost of cloud-based system with reasonable and transparent price.
Professional Service
One to one service to assist enterprise fast implementation.
Specialist in Various Industries


Brand new ServiceJDC can fulfill various industries' sales management. With mobilize and digitalize process, we assist you control key data and enhance sales performance.
Over 2000 Enterprises Choose ServiceJDC
"Make Perfect food and Use Real food" is Super Qin group's mission.

Facing technology, they think digital management is becoming important. Super Qin continuously pursuit high quality from ingredients management to front salespersons

and devote to build up a new value in chain restaurants.
HFC advocates the management philosophy of "Customer First, Profession Based" to expand multiple installment businesses for vehicles and car refinance loans to provide diversified financial services to customers.

HFC will head toward sustainable development and create more diversified and higher quality products and services, enhance customers service, and create business value.
Suntory Group is both beverage manufacturing and top 3 high-level liquor.

Suntory has created many innovative products by combining its 120-year heritage of craftsmanship and continuously pursuit high quality product and service.
Diversified management in restaurant, flower, aquatic products, liquor and devote to provide best integrate service and simplify sales process.

Through data accumulated, King Car intensify customers management and dig out new business opportunities.
Register Now to Enhance Sales Performance
Realize tips in expanding customers and step into success.