【UDN News|Trend Report】
  Most of the enterprise found that it is difficult to manage massive both field and internal staff when facing shortage of system and paper works in the digital era. Also, owners of enterprise though that if they keep managing these work by traditional process is a waste of time and labor, while developing manage system themselves might cost a lot.
Integrate data with cloud database help traditional business manage filed and internal staff
  ServiceJDC, develop by Mercuries Data Systems Ltd. (2427), is a pioneer cloud base field staff management SaaS. With multi-screen cloud-based concept, we have App for smart phones and Web backend for managers and internal staff to do daily manage work like task management, map tracking, customer management, message management, form management and data analysis. Field staff can easily check schedule, task location, GPS check in, task report, contact customers and receive latest information from office to help them finish daily work.
  With concept of SaaS, ServiceJDC has received many award:
• 2017 Ministry of Economic Affairs - Excellent Cloud Service)
• 2017 Ministry of Economic Affairs - Top 10 Products
• 2017 Cloud Computing & IoT Association - Innovative Business Service
• 2018 WITSA Global ICT Excellence Awards - Mobile Excellence Award (MERIT AWARDS)

  For the pricing model, we provide subscribe methods to conform digital era. Enterprise can subscribe our service by accounts and functions and enjoy low cost after calculating price from our on-line table.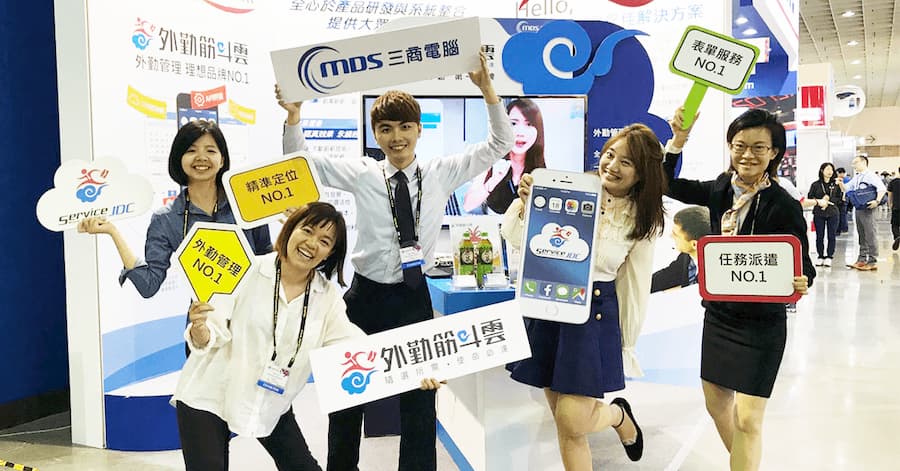 ServiceJDC service team assists enterprise to implement.
Free consultant service to link up manage system smoothly
  ServiceJDC's multi-screen service platform simplifies office process to enhance operation efficiency. During work outside, field staff can finish all the data collecting work and form filling by phones. These data can generate analytical data from system which can enhance productivity, service quality and customer's satisfaction.
  Eric Jian, sales manager of Global Service Technology CO., LTD., said they has adapted ServiceJDC for 8 months and appreciated the monthly pay, flexibility of charge, convenient system and the most important one is free consultant service. In the beginning, implement consultant assists us establish manage forms by our needs, so Global Service Technology can soon start using system. Eric Jian also indicated, "After implementing ServiceJDC from consultant's help, we are really satisfying with the system. ServiceJDC is flexible with customized form and data export compared to other system. Along with transparency of price, we can enjoy low cost service and high flexibility in data control."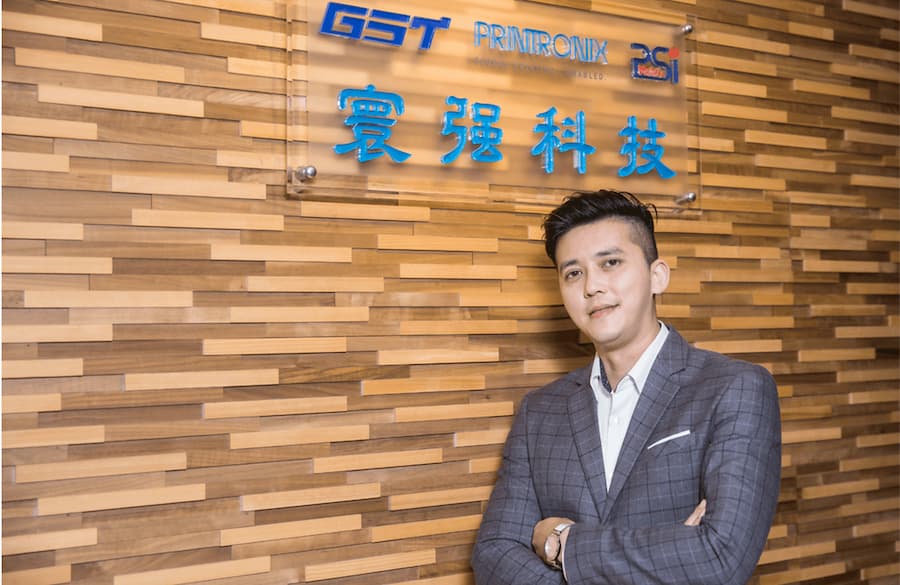 Eric Jian, sales manager of Global Service Technology CO., LTD., shared the experience in digital transformation.
  Eric Jian said that Global Service Technology's mainly services are printer agent, selling and aftersales service with numerous field maintenance engineer shifting. They provide twenty-four seven service in dealing with maintenance problems. Most of the customer's aftersales service has strict contract with maintenance service time, like engineers must contact customers within 2 hours, on-site maintenance service within 4~6 hours.
  Eric Jian pointed out that maintenance and operation service need to generate report to customers. In the past, engineers had to take pictures, edit, upload and report back. They spent lots of time to finish reports after maintenance service. Now, engineers only need to collect data and report on-line with smart phones, analysis report can be exported from back platform. ServiceJDC also solve the problem in task dispatch sequence compared to past phone-contact. With computers and app task dispatch can find task categories and numbers without over-dispatch. Field engineers can check task in schedule with customer's data attached, and they can contact customers anytime without missing any detail.
Analysis reports can assist control material usage while enhance contract renewal rate
  Eric Jian said that they report task by Line and Excel in the past, which can not real time manage customer's data. Global Service Technology now have 20 staff using ServiceJDC include field engineers, administrative secretary, customer's service staff with 70 to 100 task every day. All the maintenance data, customer's problem, process status are listed clearly in the system and can be easily analysis. When customers are going to renewal the contract, all the data and report are stored in cloud without cost in other server storage. You can easily find which parts are the most maintenance fee paid and adjust contract.
  Eric Jian also said that instead of fast, professional and high quality of maintenance service, prediction of material usage is one of an important part. Through ServiceJDC's statistic report, Global Service Technology can not only realize the engineers' performance, but also real time collect material's usage. These data can help maintenance work enhance service quality and manage efficiency.
Acceptance check data real time synchronize helps case closed and payment request faster
  Angel Su, service department's chief of ARES Engineering CO., LTD., indicated that they have adapted ServiceJDC for 16 months. ARES Engineering's main service are selling large-scale UPS (Uninterruptable Power System) and build IT engine room. Most of the enterprises adapt UPS, which means service must provide continuously. For ARES Engineering, both engineering projects and aftersales maintenance service are important.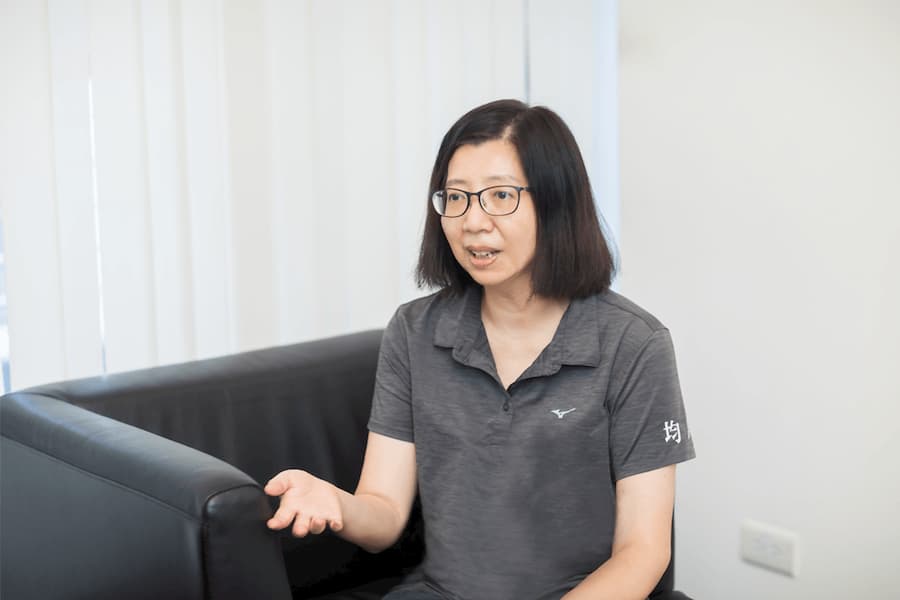 Angel Su, service department's chief of ARES Engineering CO., LTD., shared on-site work experience.
  Angel Su said, "When facing emergency, contracts of large-scale finance companies have a strict specification like repair machines within 4~8 hours. In this case, smoothness of temporary task dispatch is really important." In the past, maintenance service use LINE group to contact. After engineers finishing repair work, they need to submit paper forms and photo to the back office to close the project and request for payment. With ServiceJDC, all the form data and photo is saved and uploaded during work. They only need to export data, case can be closed and payment request can be done more convenient.
  Angel Su pointed out that each field engineers will dispatch 6~7 tasks every day. Now the task schedule can upload the system and real time synchronize to all devices instead of email notice in the past. All the statistic reports are systematic, exportable and automatically calculate like task numbers, completion rate and status report. No paper copies and records need to key in to computers makes higher efficiency of task dispatch. Also, task data and completion rates are shown in the "Task Dashboard" to simplify calculate process and can be used in the managers' meeting.
  Angel Su especially pointed out when their customers using e-signature of ServiceJDC's forms, they think it's trendy. Nowadays, most of related service company are still using paper forms instead of e-managing. ARES Engineering thought that this can build a fine brand image to the customers among industry.
  John Chang, general manager of ARES Engineering, said that ServiceJDC is not only save time and money in developing field maintenance system and attendance management system. John Chang said, "We will make more use of ServiceJDC to realize sales' progress, while using accumulated maintenance statistic report. Marketing promotion and aftersales maintenance is existing side by side and play a part together."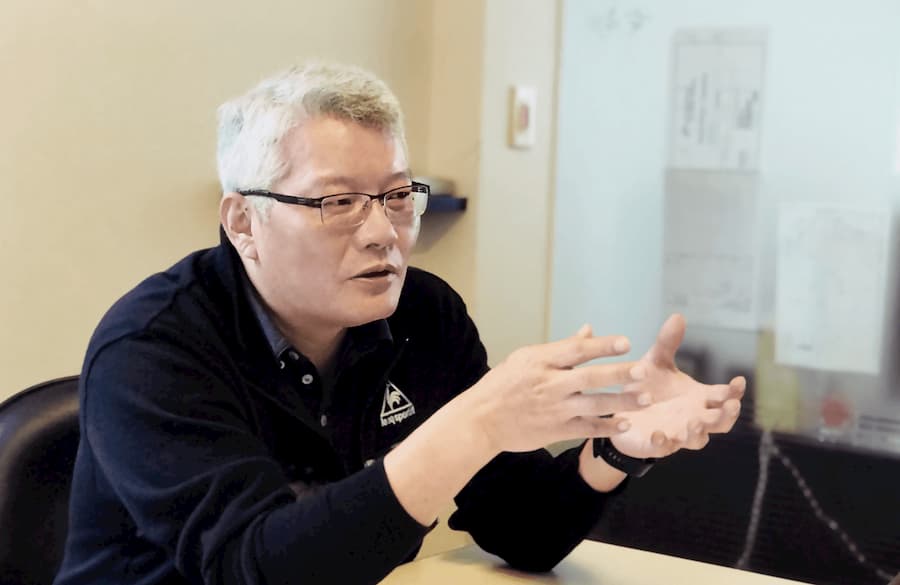 John Chang, general manager of ARES Engineering, expressed expectations in sales management.
  In order to help more traditional enterprises, serviceJDC provides e-approval system and multi-language platform to solve problems of overseas management and administrative approval. Multi-language can let overseas management more smoothly. Free trial is available for enterprise under 5 accounts.
More information on ServiceJDC official website:https://www.servicejdc.com/en/