【Money Udn|Trend Report】
Gain great profit with little data. Take customer relationship management data to the cloud.
To confront with digital and mobile device trend in competition, the enterprise development and fieldwork management shall advance with the times. It requires mobile flexibility and readiness constantly. The core thinking in management shall also transform from worker intelligence to artificial intelligence. How to utilize the minimum cost for effective action and digital management becomes a challenge for enterprise owner.
The new generation e-management tool "ServiceJDC" provides a new model of data management for enterprises. It enhances comprehensively the pattern of profit-taking by data analysis integration through mobile device and cloud service. From customer development or service point of views, the front line fieldwork sales representatives or service specialists are the key roles of business profit impact. Without a proper management model and sales data system, it might cause a loss of both employees and revenue.
Here we are going to introduce you two successful stories that accomplished enterprise digital transformation by "ServiceJDC." The first one is Zi-Ran cooperation, a food agency. Through digital transformation, they manage distribution sales staffs who are on the field and understand the needs from frontline sales representatives regarding resources for duty patrol situation and business discussion. The management could send an action plan request in any time through App, which empowers fieldwork sales person with better bargaining chips to battle out in the negotiation. It is even possible to provide a feedback to upstream partners regarding sales status and distribution data to sharpen the competitive advantages. To zoom in the second successful story: UB UNION TECHNOLOGIES, INC., traffic system integrator. How do they utilize cloud management for better fieldworker dispatch, to record customers' maintenance life history, to optimize product and maintain healthy customer relationships to pan out new business opportunities.
ServiceJDC by Mercuries Data Systems supports enterprises to manage numerous and hard-to-track fieldworkers such as sales staffs, delivery staffs and maintenance staffs with specific techniques. The staffs are able to immediately use the easy-to-understand operational platform that supports mobile, tablet, and computers for schedule planning, check in report, map tracking, push notification, and competition information collection, no matter where they are. The operational efficiency is increased thanks to simplified operational process. The productivity, service quality, enterprise image, and customer satisfaction are also improved because of systematical customer management by historical data analysis and reuse.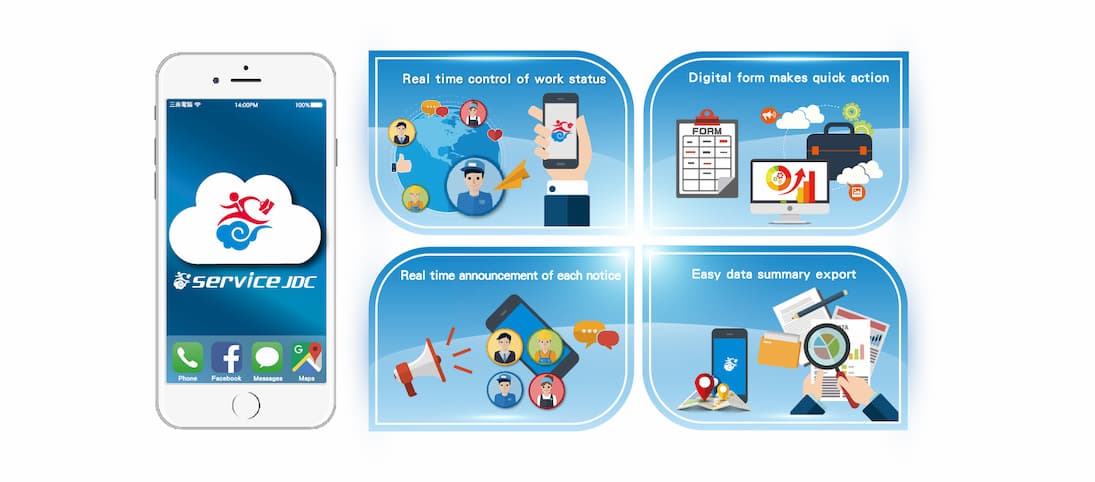 Picture: Enterprise field staff management new model (picture credit: ServiceJDC)
Zi-Ran cooperation: from agency to independent brand. Data Management pans out "data property."
Mr. Xu Wen-bin, the general manager of Zi-Ran cooperation says, Zi-Ran cooperation focused in food agents in early stage. There are 50 factories as our upstream suppliers, and more than 1,600 distribution sites all over Taiwan as our downstream partners. We offer around 600 different products. Mr. Xu Wen-bin plans to transform the company from professional agency to independent brand and service. Therefore, it requires system assistance with higher efficiency for management. In this way, it is able to collect data from every sales staffs and distribution sites for further analysis, and to generate information instantly and more clearly as reference for management or factory clients.
Mr. Xu Wen-bin says, the service management of a marketplace is extremely complicated. There are only 7 sales representatives for entire Taiwan at the moment. In the past, the communication between headquarter is not immediate. It is also not easy to manage staff attendance and task execution. Traditional sales audit is only possible through reports, which means it's not possible to showcase the real field status at the first moment. With the help of mobile network and communication software, field status could be communicated through instant photo sharing. However, there is a limit of photo file size, and photo storage period, which is not well for file management. He says, "ServiceJDC" solves this issue at first place. After the implementation of "ServiceJDC", no matter sales management, customer complain, display of marketplace event, display position change, price adjustment, or store manager's feedback are all settled in one click. It not only facilitates information control for the management, but also improves sales staff's performance.
Mr. Xu Wen-bin points out, through further analysist of these files on the cloud, we could better describe the marketing footprint of marketplace, counter, and products and to find out the maximum profit point for sell. These are very precious "data properties", the know-how that facilitate the control of brand creation and market service for Zi-Ran cooperation.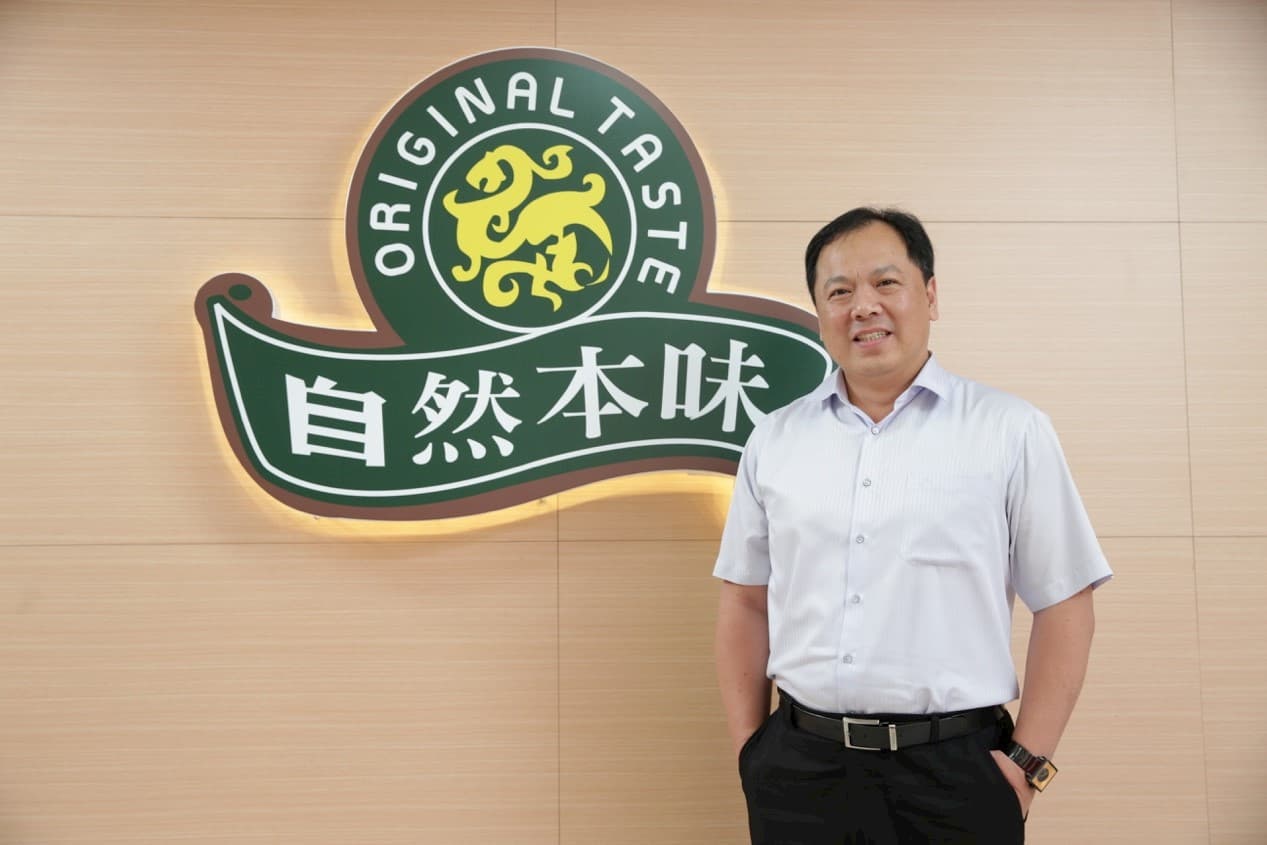 Photo: Mr. Xu Wen-bin, general manager of Zi-Ran cooperation. (photo credit: ServiceJDC)
Mr. Xu Wen-bin says, the data connection of cloud system through "ServiceJDC" makes sales staffs able to check the promotion time frame information and history record of each marketplace instantly, which brings advantages to negotiate monthly stock and display position with stores. Therefore, sales staffs could confront with the challenge from competition with prompt respond. The cloud platform allows them to confirm and record the price and quantity for negotiation in any time and get the go-ahead for "raise the stake." ServiceJDC is the best battle recorder. The improvement of sales staff fighting power simply brings more business capacity.
Recently, on top of agency, Zi-Ran cooperation also starts marketplace commercialization services for a famous brewed beverage brand. "Thanks to this system, we are able to control every information regarding display and price in each wholesale store in any time and provide feedback to the factories." All the store information that factories need, include product quality distribution inventory, stock check, shortage items, delivery time of on-going orders, competitor information, or any individual store manager's feedback and respond, are able to showcase immediately in "ServiceJDC." Therefore, the "service" and "information" of marketplace management itself also becomes a valuable merchandise.
UB UNION TECHNOLOGIES: A long term customer relationship is the lifeblood of profit. Data keeps the records of customer maintenance.
Mr. Lee De-hong, the vice general manager of UB UNION TECHNOLOGIES says, UB UNION TECHNOLOGIES is the first local company who built up parking toll machine system in Taiwan. We dedicate to traffic and transportation field for more than 20 years, our service scope covers the most of parking lots, exhibition malls, and the software and hardware system of toll machines of metros. Currently, regarding the distribution of our service sites, there are around 200 parking lots, at least 20 exhibition mall, playground, and metro system in north, central and south Taiwan, and 90% of government ticket machines all over Taiwan.
"Customer sites and maintenance sites are the key of long term relationships", Mr. Lee De-hong points out. The service of UB UNION TECHNOLOGIES includes system module, equipment, and long term maintenance service. The 23 staffs in maintenance team have to serve such a big scale of business units. Hence, the efficiency of maintenance department is the most significant concern of UB UNION TECHNOLOGIES regarding company management. That's also the reason that we have decided to implement e-management of "ServiceJDC." Out of our expectation, we have gained a larger benefit than our estimation.
In early stage, the task dispatch for field maintenance staffs of UB UNION TECHNOLOGIES are all based on paperwork operation and telephones. The task locations are discrete so that each maintenance staff needs to spend much time on commuting. After maintenance, there are always some trouble in filing the paperwork, because of the handwriting and wording from each fieldworkers are different. Thanks to the implementation of ServiceJDC, by using cloud and GPS, the dispatched tasks are able to be closer to where fieldworkers are. This flexible function makes fieldworkers feel better. What's more, because the process of maintenance is structured into standard form format and the menu in the form could avoid too much input, the wording of maintenance task is therefore unified and ready for coding and statistics after task execution.
Mr. Lee De-hong says, "the very first purpose is only to replace paperwork by e-format, so that we could increase the management ability for individual performance and frontend task dispatch and the efficiency of customer record search. However, the real implementation is better than that. We could find the issue more quickly and work on the solution by utilizing the integrated data in re-analysis."
By utilizing the comprehensive function modules and details which dedicated to individual enterprises in ServiceJDC, UB UNION TECHNOLOGIES is able to build quickly and also control the critical data of understanding customer maintenance life history. Once the data is available, the analysis could be made to improve product speed and accuracy. In the meantime, by using computer to replace human brain for analysis, it is faster and more comprehensive, which facilitate the efficiency of human resource to be further increased.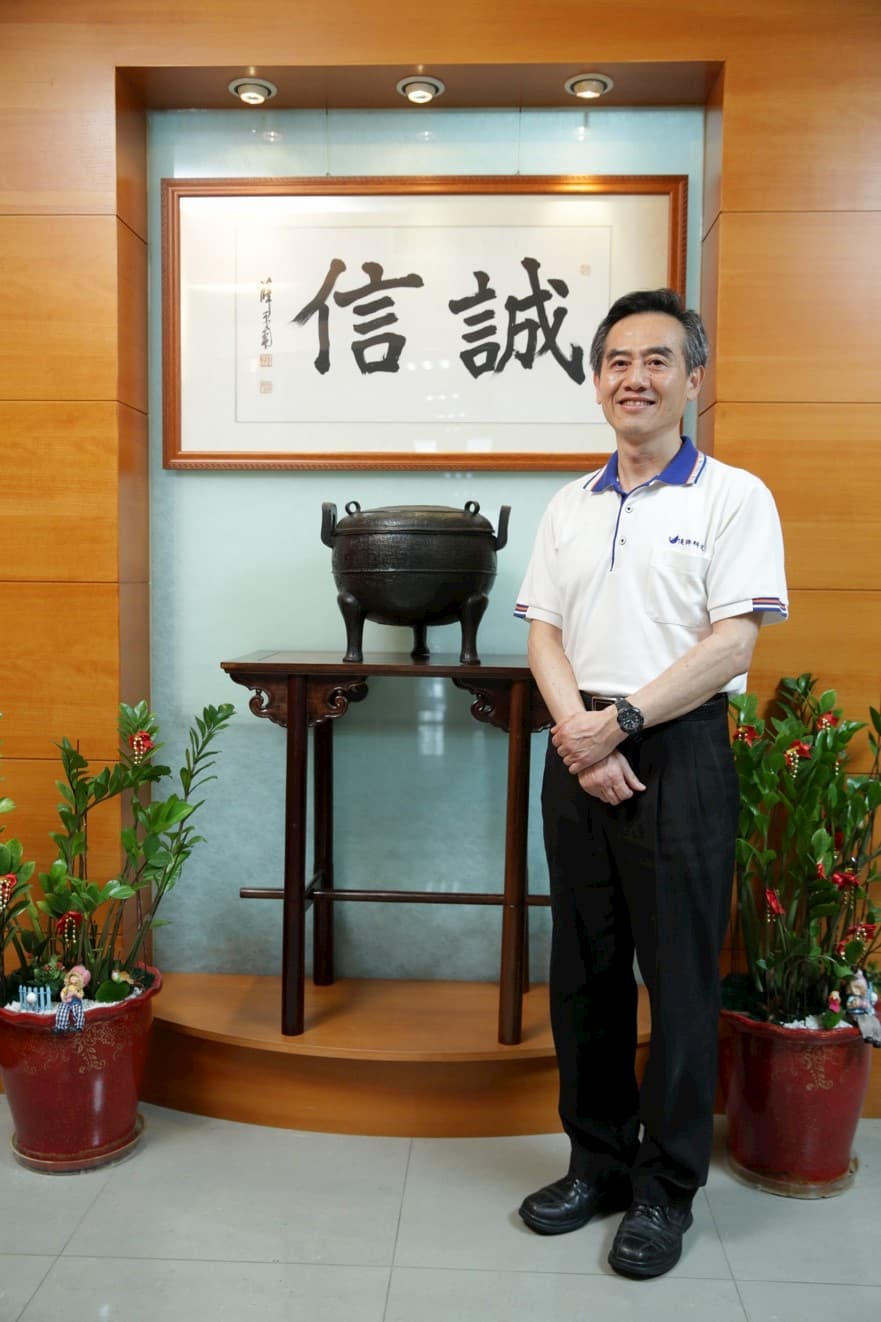 Photo: Mr. Lee De-hong, the vice general manager of UB UNION TECHNOLOGIES. (Photo credit: ServiceJDC.)
From worker intelligence to artificial intelligence. How to solve internal resistance to digital transformation?
There are many advantages of using "ServiceJDC." It brings profit for enterprises. But from the management's standpoint, it is not possible to run an initiative without internal pressure. It becomes a challenge of management level to solve internal access barrier to new management system. For this issue, Mr. Lee De-hong points out, during implementation, the company prepared staff trainings to support frontline employees to adapt to the service. He believes that the best management is the employees' self-management from the use the good tool. ServiceJDC brings human interaction. He laughs, "Innovation needs to be driven from myself. Even my personal work calendar is organized by ServiceJDC. My colleague use it to make task dispatch for me."
Mr. Lee De-hong also points out: we held several meetings during implementation to facilitate grassroots maintenance staffs' understanding regarding mobile cloud system. It is to simplify the traditional manual and paperwork operation. After the internal meetings, fieldworkers starts to be familiar with it and discover advantages. What's more, "ServiceJDC" could support the management to decide the location of task dispatch with flexibility. In this case, there is no more resistance because the route of task locations for maintenance staffs become more straightforward and more favorable.
For more detail, welcome to visit official website of ServiceJDC. (https://goo.gl/jRQcSh)
ServiceJDC product videos: https://www.youtube.com/watch?v=0ZCQ1hrQ9N0&feature=youtu.be