Real-time integrate first-hand data to control market needs
  There seem no big problems in ingredients logistic service. However, "logistic integrate" is the key to success from sales to logistic in Taiwan's fierce competition environment.
  AWA FOODS MATERIAL PLACE CO., LTD. provides various hot pot's ingredients with low temperature logistic service. Their customers are hot pot restaurant, Shabu Shabu, restaurant and fusion restaurant, coverage all areas of Taiwan. Most of these customers do not have central kitchen and open in day time. After close at night, they need to check inventory of ingredients and order which can receive tomorrow.
  AWA FOODS' core competency is diminishing purchase work load of restaurants and distribute ingredients to stores. Customers can place an order with service of "one-day logistic" to diminish restaurant's ingredients purchase work. With concept of "high quality of service, safe and low cost ingredients," AWA built on a win-win partnership to enhance sales performance of customers.

AWA FOODS MATERIAL PLACE CO., LTD. is a professional low temperature logistic provider. AWA provide.
PSI system can not fulfill needs, ServiceJDC helps solve pain point
  There seem no big problems in ingredients logistic service. However, logistic integrate from sales to logistic have lots of management issues. There are many problems in complex work of logistic service and might cause customers complain when errors happened.
  To fulfill one-day logistic and stable distribution service, AWA FOODS is successfully implement ERP system's PSI module along with Pick-to-Light System to manage logistic distribution. Every night to the morning after, staff will deal with a huge amount of purchase order and pack all ingredients. Next day, when delivery staff start work, these ingredients will be distributed to stores. However, managers can not manage sales person easily.
  Kevin Chen, manage division's assistant manager of Northwest Foods Ind. Co., LTD., pointed out "Field staff management model is complex and hard to integrate in ERP system. We feel disappointed in finding fieldwork management system, even our company are willing to use digital system and search suitable one for a long period of time. We had tried using GPS device to report location, but information during visits was hard to record. Then, with widely use of smart phones, field staff management APPs grow faster. We think it might be the right answer."
  AWA FOODS has evaluated various kind of field management APP and cloud system for a year. Then, they found convenient and high-value ServiceJDC. After trial and evaluate, they decided to implement system and improve current situation. Kevin Chen said," As long as system can provide a better service, our company will support implementation. ServiceJDC's cloud base service help us diminish loading in setting up server. It can also assist our sales persons and internal staff communicate, efficiency in data collect and sales performance.
ServiceJDC helps AWA to optimize management in IT staff, internal assistant and sales person
  ServiceJDC's data is stored in cloud along with field staff's APP can assist AWA solve front-end sales person to check-in, data collect and real-time synchronize. Internal assistants can also integrate and analysis data faster.
Announcement on cloud to diminish IT staff's loading
  In the past, AWA needed to establish mail server. IT technician must to manage server host's active directory and adjust exchange mail server's performance and parameter settings. It may cause data security problems and may be a heavy workload for technician. Also, IT technician need to deal with IT needs in company.
  As cloud service becomes convenient and stable, Kevin Chen said," Our company's regulate are changing. We think our management can apply cloud service and outsourcing. Our company need to focus on ERP maintenance and data analysis. With these concept, we successfully implement ServiceJDC to our company and bring lots of benefit in management.
  After implementing ServiceJDC, all important announcement and information are recorded in APP. Field staff check in then check important notice from "visit form" created by IT technician. Before entering restaurants sales persons can check these notes to self-check and company's regulations. In this way, sales persons will not miss important detail. Also, they can finish reports during work and real-time synchronize.
Clear schedule makes task dispatch and control status easier
  Kevin Chen said," In the past, sales person's work status is hard to control. We spent about a year to find suitable system to solve problems, and chose ServiceJDC. It's task dispatch can real time report and check in and meet our needs."
  We integrate customer's contact information and address into ServiceJDC system. In this way, you can centralize customer's data and use map mode to verify customer's location and sales persons and dispatch task to them. After task dispatch, sales persons can check schedule and punch in to report back with phones. Managers can use web platform to realize real-time work status. Enhance service efficiency and quality can solve problems of controlling sales persons' work status.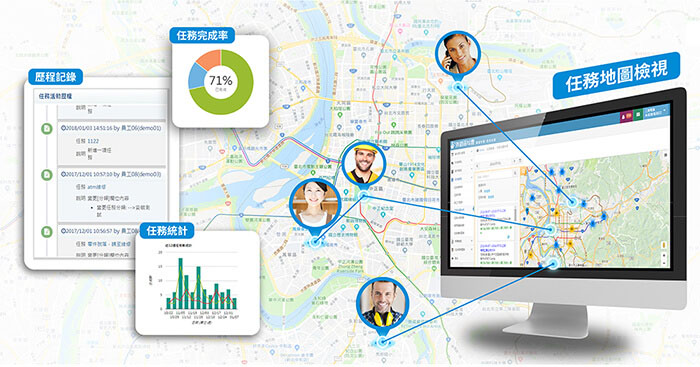 ServiceJDC can assist different kind of task dispatch and real-time adjust. MDS provide.
Fast collect data with e-forms through phones and diminish paper works
  Reasons that AWA decided to use ServiceJDC are functions of check in, real time data collect and report back. Sales person can finish work during visit our restaurant customers. Kevin Chen said," Our company's high-level executives expect staff to fill daily forms within 5 minutes. It's hard to achieve with traditional working process. Salespersons need to collect business cards, address and contact person in every visits. Then, they fill in work record forms when coming back to office. Finally, upload photos of paper forms with Line. It is not only a waste of time, but also consuming more than 600 pieces of paper per months."
  After using ServiceJDC, when salesperson visit customers, they fill in forms in phones. In this way, all of data can turn into files and synchronize to internal staff after submit. All data and location of check-in store in cloud without data loss to make daily process faster. For special customers, salespersons can customize forms with flexibility. Now, AWA's sales person was perfectly using ServiceJDC to finish daily work and already replace traditional paper works. All data are stored in cloud with no risk of data lose. Comprehensive paperless accelerate daily process and become a helping hand to sales management.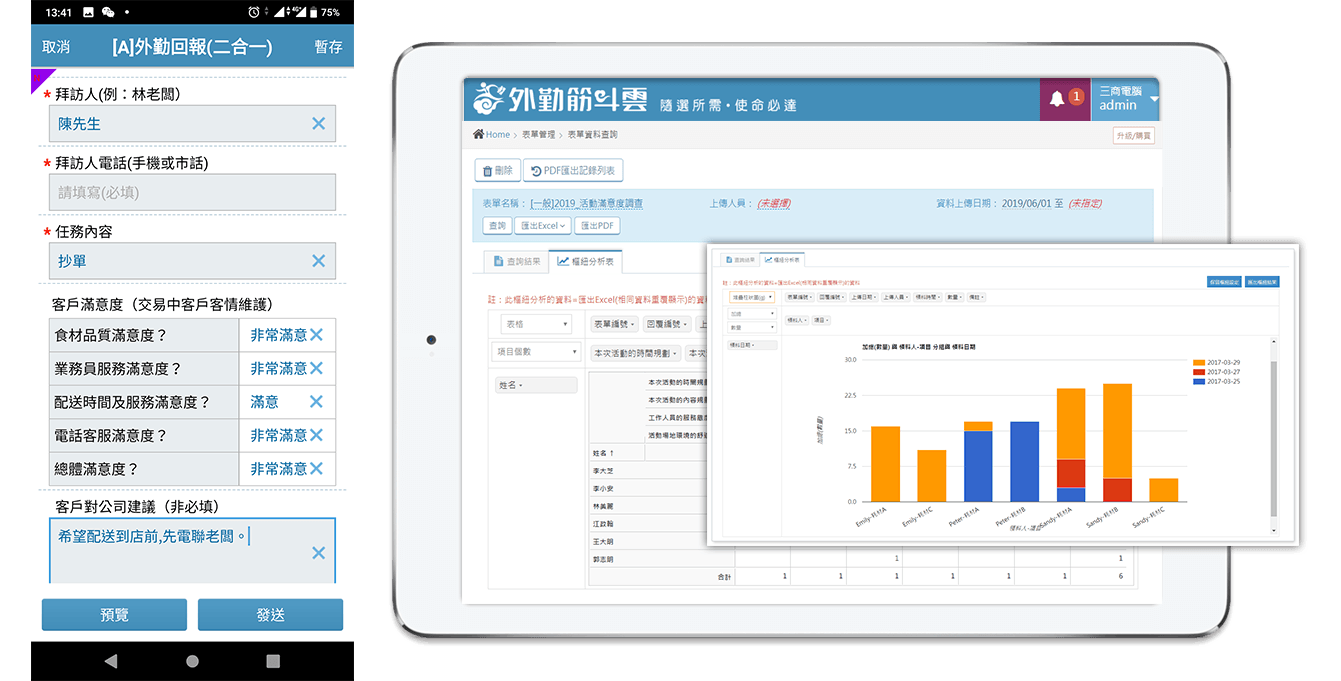 ServiceJDC interface. MDS provide.
Smart analysis key data to enhance customers management and find business opportunities
  In the past, paper forms are not easy to integrate and check. It is also hard to evaluate staff's performance and analysis. Kevin Chen said," With ServiceJDC, even if staff transferring, managers can check history data to control all the customers' information. Therefore, uploaded data can generate various statistic reports to help manager evaluate staff's performance faster and precisely. If managers check frequently, you can find customer's business opportunities and prevent outflow of customers."
  Therefore, AWA use task reports to analysis, including new customers (have yet to transact), existing customers, and attrition customers (no transaction over 3 month). When calculate and analysis ServiceJDS's data of sales person report, we can found a regular pattern of customers. Sales person usually visits existing customers, while seldom visits attrition customers.
  Kevin Chen said, "When we realized these pattern and trend, I noticed sales managers to visit attrition customers to find reasons. These are what our company need to improve. If we calculate by paper forms instead of ServiceJDC system, you can imagine how much time and labor we need." ServiceJDC's comprehensive form function, pivot table analysis and report function can assist AWA finish all daily reports within an hour and enhance efficiency of work.。
  In general, AWA use ServiceJDC to enhance field staff management which is ERP deficiency. All IT staff, assistants, sales person and managers brought lots of benefits of filed management, data collect, data report and form data analysis. ServiceJDC not only help enhance operational management efficiency, but also help data analysis of customers to enhance sales performance. We are willing to provide better service to help AWA optimize management through our system.
  In order to help SMEs and more enterprise, ServiceJDC adopt cloud-based service with low cost to help digital transformation. We provide a price transparency with on-line calculate allocate and price. ServiceJDC provide e-approval system and multi-language platform to solve problems from store patrol and field staff managing to office staff and administrative approval. Multi-language can let overseas management more smoothly. Free trial is available for enterprise under 5 accounts.
More information on ServiceJDC official website: https://www.servicejdc.com/en/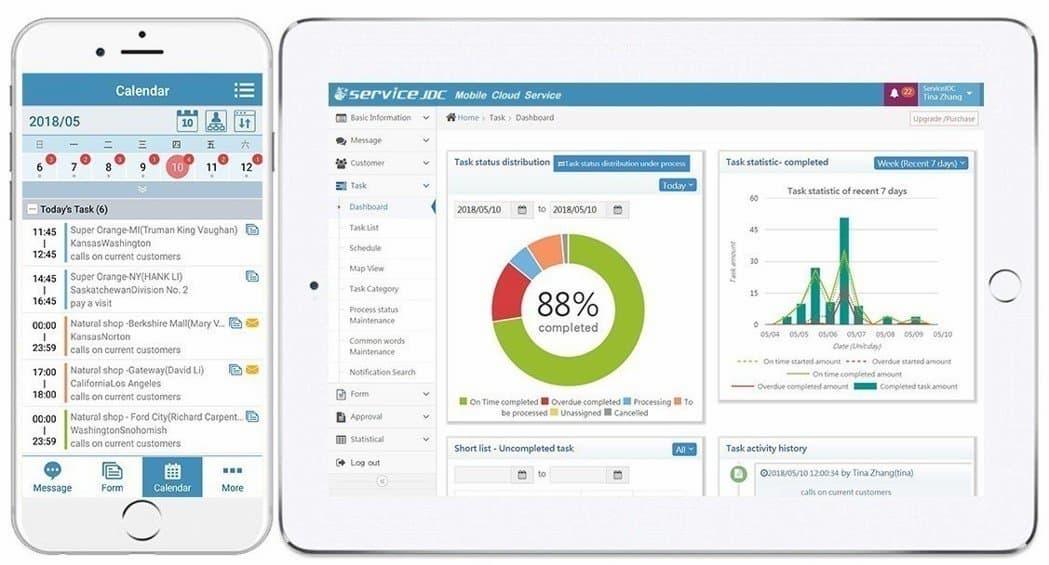 ServiceJDC multi-language and multi-platform