In the post-epidemic era, the manufacturing service industry is facing multiple challenges. In addition to the long-term proposition of smart manufacturing and digital transformation and upgrading that must be considered in order to break away from the image of production, how can the manufacturing service industry maintain stable operations in the face of global productivity instability, labor shortages, transportation problems and delivery delays, the international situation, and the effect of the war in Russia and Ukraine due to the new epidemic? Kyoden's General Manager, Mr. Huang Defeng, believes that it is important to take the step of introducing digital management tools to help the manufacturing services industry break through the challenges in the post-epidemic era.
From agent to self-branding, Kyoden took a different path 10 years ago
Kyoden was established in 1997 and is a major supplier of sheet metal automation machines in Taiwan. They have long been cooperating with MAZAK, the world's largest machine manufacturer, and have focused on the sales and pre-sales and after-sales technical services of MAZAK's laser processing machine equipment. After eight years of working as a technician and salesman in a Japanese company, Kyoden's president, Mr. Huang, decided to establish Kyoden and devote himself to the sales and technical service of MAZAK laser processing machines as the sole agent.

In 2011, Mr. Huang established KANFON Technology, a 100% Taiwan brand, and combined it with the MAZAK X KANFON brand to provide a full range of solutions for sheet metal automation processes. He introduced advanced equipment from material management warehouse automation system, combined with high speed intelligent fiber laser cutting machine into fully automated cutting system, 3D tube fiber laser cutting machine, ultra-precision fiber laser cutting, 3D fiber laser welding automation system, fully electric folding bed, remote vibration mirror fiber laser welding system, etc. With Kyoden and KANFON, he started to enter the world service market.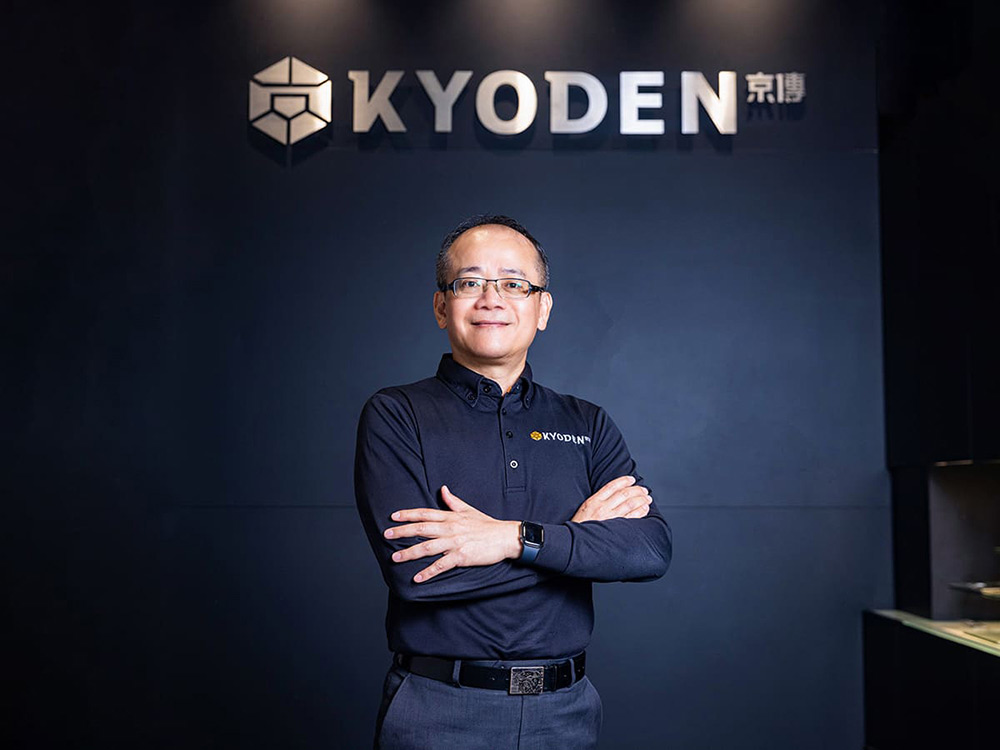 Kyoden's general manager, Mr. Huang Defeng, made the decision to adopt ServiceJDC in 2021. Image/Provided by MDS​
He is confident that Kyoden has a track record of selling more than 3,000 units since its establishment, and its after-sales service is not sloppy either. Kyoden has the original technical authorization for key components and provides a complete technical service center and after-sales technical support. 73% of Kyoden's employees are in the technical service team. They emphasize on quick repair or maintenance service within two hours, and maintain a sufficient stock of repair parts for a long time. In addition, Kyoden is the only company in Taiwan that can repair fiber optic laser source equipment and CO2 lasers on site.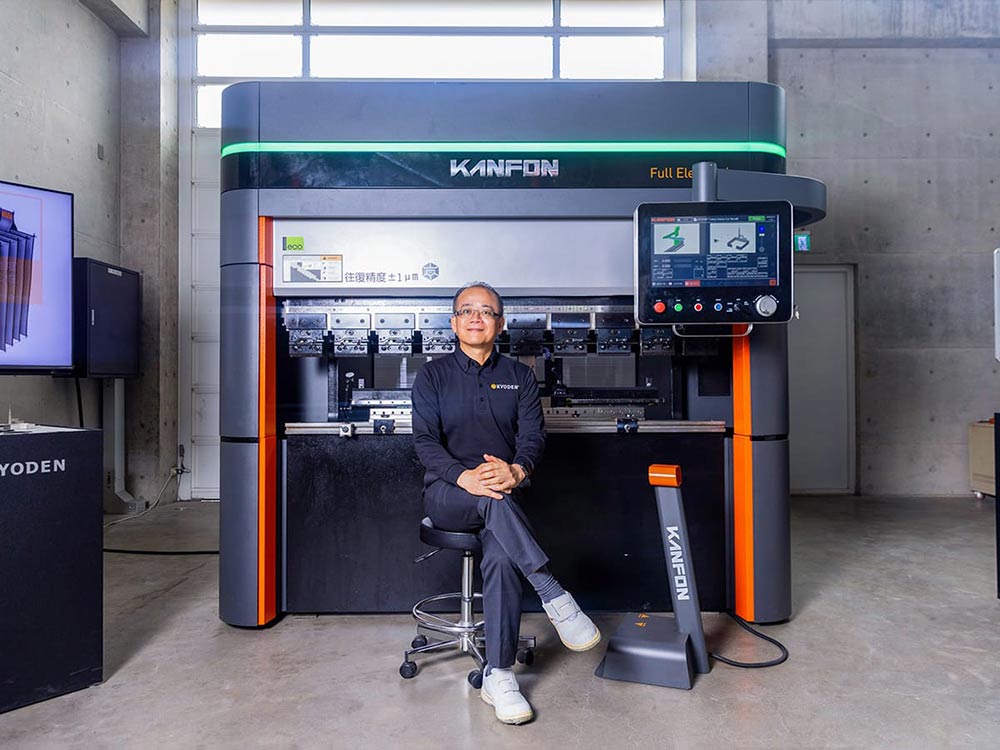 Kyoden Enters World Service Market Image/Provided by MDS
Digital Transformation of Manufacturing Services Industry Begins with Digitalization of Process Management
Precisely because of the trust of international manufacturers and the mission to improve after-sales service, coupled with the epidemic's catalyst for remote communication and digital efficiency, Kyoden chose to introduce MDS's ServiceJDC in 2021, according to Huang.

The mission of ServiceJDC, launched by MDS, is to lead enterprises into a highly efficient mobile office generation, especially helping field staff to sign in and out on various platforms, task reporting, approval forms,customer management, business management, maintenance equipment and contract management, statistical analysis, and other operations, centralizing all information in the cloud for unified management, realizing the value of digital office and intelligent analysis.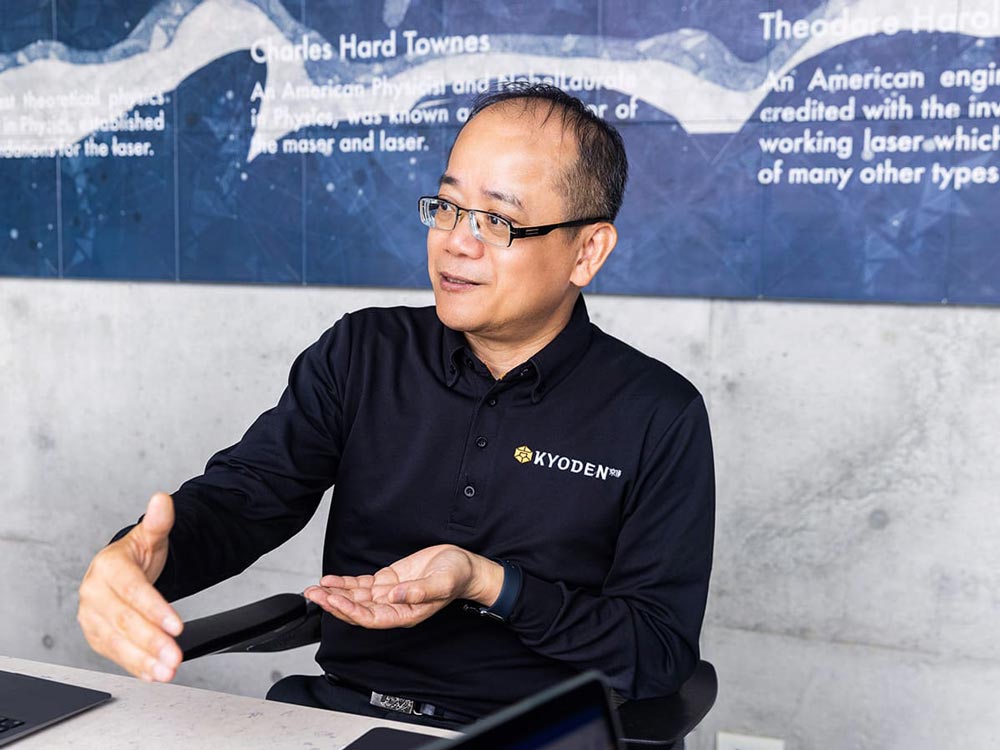 ServiceJDC Helps Kyoden Digitize its Process Management Image/Provided by MDS
Huang Defeng said that Kyoden's commitment and responsibility to customers has always been how to ensure normal and stable production of customers' equipment to create production capacity. Kyoden's services include: laser source internal and external maintenance of laser processing machine automation system, ice water machine maintenance, annual laser accuracy calibration, tooth row accuracy calibration and maintenance, all-electric folding bed, regular maintenance of laser welding system, unscheduled on-site technical support and maintenance, training, machine relocation, new machine installation, troubleshooting of remote telephone technical support, annual contract delivery, supply of consumables and parts, etc. There are quite a few projects. In the past, customers mainly contacted them through Line@ and customer service calls, and then transferred to the managers to assign tasks to engineers. After the engineers went out, they would fill in a paper maintenance report triple sheet. After completion, they would leave one of the paper documents to the customer. These triple sheets may be returned to the corporate headquarters by the engineer within 3-5 days. Only then can the relevant statistics of after-sales service cases be carried out, including service content, time spent, parts usage and inventory statistics, etc. Time-consuming paper-based operations reduce the efficiency of service and operations management.

According to Mr. Huang, the adoption of ServiceJDC has directly improved the efficiency of engineer attendance services and statistical operations. Kyoden has turned the traditional paper maintenance report triplet into a digital form in ServiceJDC. Engineers only need to create a task on the mobile application and fill out the digital maintenance report form, then ask the customer an electronic signature, and then they can directly upload all the data from the field task. By making full use of the accumulated database for analysis, Kyoden's managers are able to fully grasp the status of their customers' equipment and services in real time, achieving the win-win results with their customers.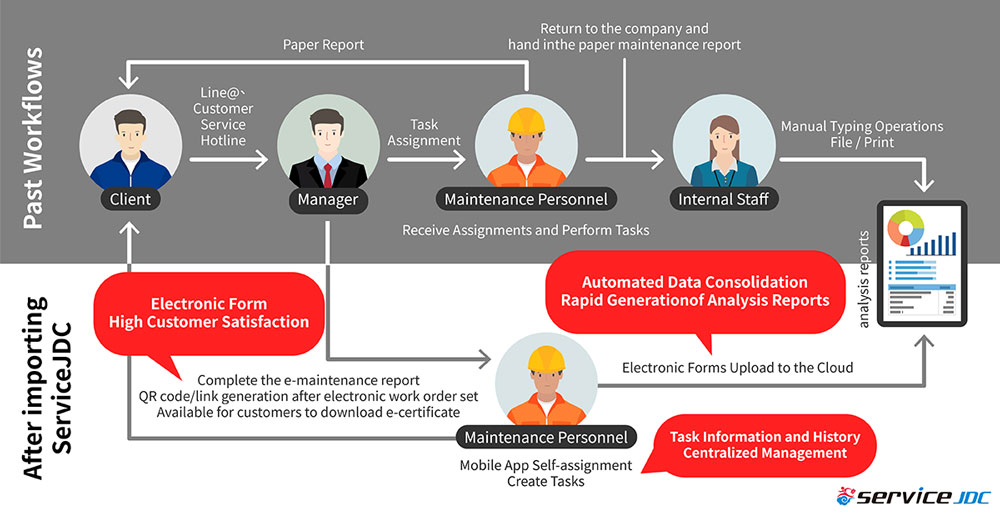 Importing ServiceJDC Digital Service Processes Image/Provided by MDS
With ServiceJDC, the data become more friendly and convenient. Mr. Huang said, at present, the managers can regularly review these real-time task data to keep track of each customer's equipment repair, the total number of different operation types and the efficiency of the engineer's tasks, and to give the engineer regular performance evaluations. In this way, the all assessment can be based on complete data and information.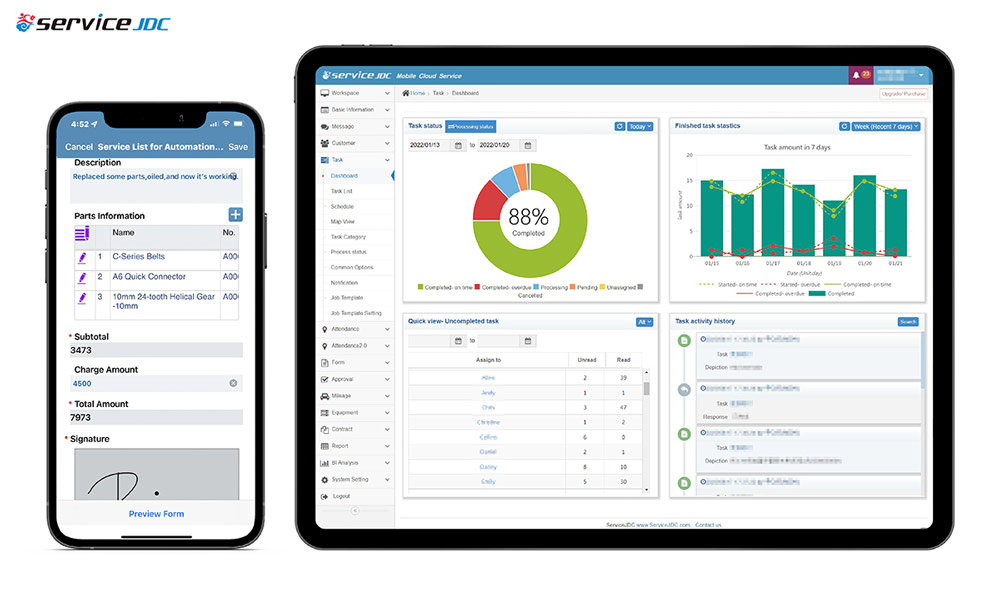 ServiceJDC Interface Diagram Image/Provided by MDS​
ServiceJDC Helps Manufacturing Industries to Improve: Inventory Response, Regular Maintenance Reminders, Digital Service History Building
Mr. Huang said that ServiceJDC were now fully adopted, including engineers and management staff. He said that with ServiceJDC's real-time statistics, they are able to keep track of parts inventories and call for deliveries earlier, whether it's an epidemic, a delay in delivery, or a global logistical disruption caused by the war between Russia and Ukraine.

In addition, we are looking forward to integrating ServiceJDC with more management services in the future, for example, setting automatic reminders directly for customers' regular maintenance, or even calling out service history data through ServiceJDC to browse customers' maintenance frequency, parts requirements, purchasing suggestions, etc. during contract renewal and exchange.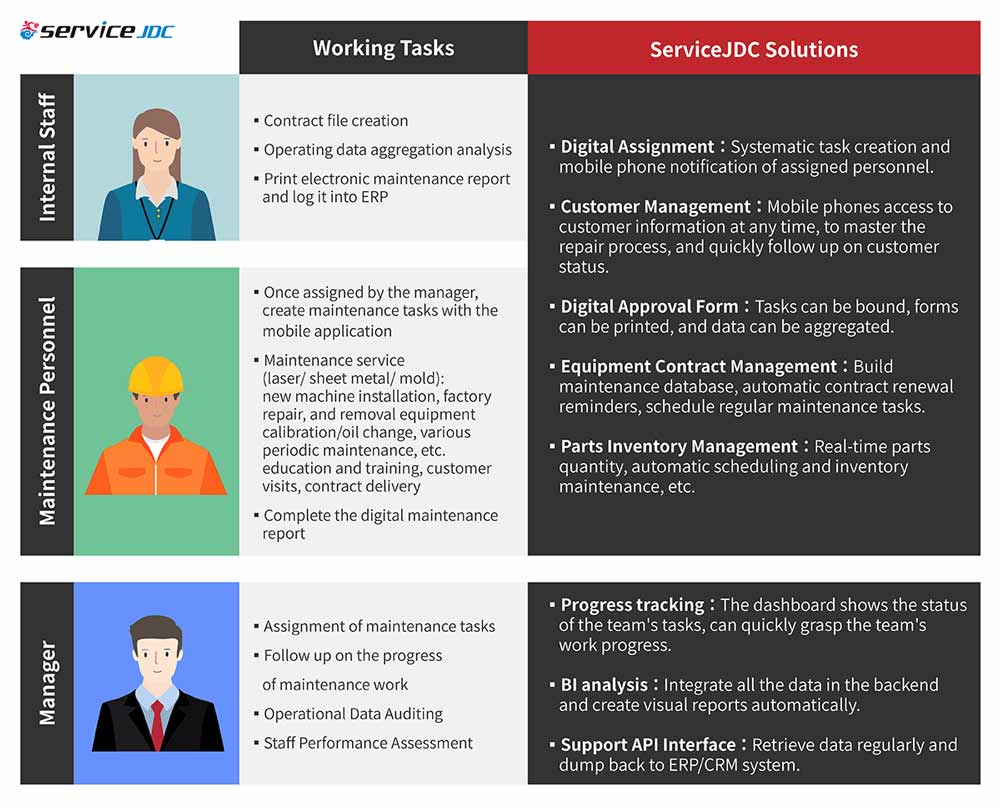 Digital Management Application of ServiceJDC System Image/Provided by MDS
ServiceJDC provides a full range of management solutions, including online attendance, task assignment, digital forms sign-off, customer management, equipment contract management, BI analysis and other functions. ServiceJDC has served more than 3,000 enterprises, including food retail, automated equipment maintenance, mechanical and electronic equipment agents, marketing commercialization, food and beverage franchise, cleaning services, building construction, air conditioning and electrical engineering, finance and insurance, medical materials and long-term care services. We provide the most professional one-on-one consulting services for enterprises to help enterprises to achieve digital mobile operation, face the epidemic more easily, and quickly in response to various office models. ServiceJDC is free to use within five people, learn more on ServiceJDC official website.